Weekend with Olive Oil
Via Pietrapiana, 56 - 50066 Reggello - Italy
Two days of activity together with young and old to dive into the experience of cultivation and harvesting of olives. Parents and children will learn about the olive growing cycle, observe the different qualities of the trees and their precious fruits, work together with the olive harvest and take them to the oil mill to see how the olives become oil.
The special offer includes:
- overnight stay (1 night) in double, triple or quadruple rooms
- Breakfast based on organic or local products
- lunch
- dinner
- snack
- all activities, workshops and games for children
- a 0.25 can of freshly pressed oil.
When? From Friday 2 to Sunday 4 November 2018: a weekend that begins with Friday dinner and ends with Sunday lunch.
And if the full immersion is not for you, you can also participate only on Saturday (including lunch) or only at the workshop + Saturday snack. Everyone can choose the option that suits him best for times and availability!
HERE'S THE PROGRAM IN THE DETAIL:
Friday 2nd November:
 
• Arrival, accommodation and dinner with food based on seasonal products at km 0
 
Saturday 3rd November
• Breakfast
• Morning: Manual olive harvest
• Lunch with food based on seasonal products at zero km
• Laboratory organized by Slow Food Valdisieve and Valdarno Fiorentino on the oil supply chain entitled:
"The Thread of Oil: from the earth to the plate"
• Oil-guided tasting with Sonia Donati, Regional Coordinator of the Slow Food Extravergini Guide and oil taster.
• Snack
• Visit to the mill
• Dinner based on seasonal products at km 0
Sunday 4th November
 
• Breakfast
• Visit to the oil exhibition at Reggello
• Lunch with food based on seasonal products at km 0
And if it rains? No problem, the purpose of the event will remain the same, to the discovery of nature and good quality products, only some activities will change. For example, in the event of rain, we will devote ourselves to the production of soap with oil and much more!
-----
Special offer for those booking with Ecobnb:
1 adult and 1 child € 203 (instead of € 225)
2 adults and 1 child € 293 (instead of € 325)
2 adults and 2 children € 347 (instead of € 385)
1 adult and 3 children € 401 (instead of € 445)
1 night + breakfast + lunch + dinner + activities and workshops + freshly pressed oil 203 € (instead of € 225) per adult + child
The 10% discount is for Slowfood members and for those who book with Ecobnb.

1 adult and 1 child € 203 (instead of € 225)
2 adults and 1 child € 293 (instead of € 325)
2 adults and 2 children € 347 (instead of € 385)
1 adult and 3 children € 401 (instead of € 445)
1 night + breakfast + lunch + dinner + activities and workshops + freshly pressed oil 203 € (instead of € 225) per adult + child
The 10% discount is for Slowfood members and for those who book with Ecobnb.

1 adult and 1 child € 203 (instead of € 225)
2 adults and 1 child € 293 (instead of € 325)
2 adults and 2 children € 347 (instead of € 385)
1 adult and 3 children € 401 (instead of € 445)
By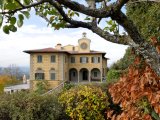 Reggello (Toscana)
Starting from 78,00 €