Tree House Getaway in Calabria
Via E. Altomare, 103 - 87054 Rogliano - Italy
The special offer includes:
- 2 nights for two people in the tree house, rich sweet-salty breakfast;
- visit to the chalet in the woods and to the deer center.
All around the chalet you will find meadows and woods, gardens with chestnut roots, an old oak tree, 2 km of hiking trails.
Visit the daini center, the chalet in the woods and the natural beauty of Tenuta Bocchineri, near the Borgo delle Tredici Chiese and the Cannavina waterfall, one hour from the Parchi della Sila and the Tyrrhenian Sea.
Not to be missed: the charming village of Rogliano, known as the village of the thirteen churches, the waterfall
Cannavina, which can be crossed by cable car and cable descent, the paths along the Savuto river. It is also possible to book beautiful excursions on horseback.
Tenuta Bocchineri is located about 3 km from the A2 motorway exit, an hour's drive from the Sila national parks and the Tyrrhenian Sea.
2 nights for 2 + breakfast 300 € (instead of 372)
2 nights for 2 + breakfast 300 € (instead of 372)
By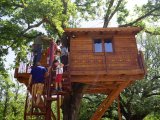 Rogliano (Calabria)
Starting from 80,00 €