Biking Vidova Gora - Dol
Porat 1 - Postira Postira - Općina Postira - Croatia
Trip information
Duration of the tour: 4:00 hours
Distance: 22 km
Previous experience: prior biking experience
Equipment: Cube Aim 26 and 29 bicycle, helmet.
Fitness Level: A midium level of fitness is required.
Age: Minimum age is 16 years.
What to Bring: Sports clothing and footwear, sunglasses, sunscreen, water.
Special Conditions: The operator has the right to cancel tours, without notice at their discretion depending on the weather conditions. All safety instructions from Brač Adventure staff must be adhered to.
Departure time: 16:30 h
Activity price: 74 € per person
The price includes: Equipment, transfer, dinner, insurance and English speaking guide assistance.
Payment: Cash or bank transfers.
Activity price: 74 € per person
By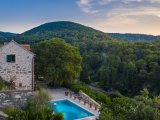 Postira (Splitsko dalmatinska)
Starting from 200,00 €
More Offers