Dalmatia cycling & wine tasting tour
Plinska 24a - 20340 Peračko Blato - Općina Ploče - Croatia
Stasevica valley remained hidden from tourism for a long time. Until we discovered its potential for some of the best cycling tours in Dalmatia. This adventure tour features cycling through the vineyards of Stasevica valley and along the Matica river. It would be a shame not to try some local wine and other products while in the area so we designed this tour to have 2 stops in local wineries.
Tour type: Cycling
Venue: Stasevica valley
Tour start: Every day at 4 PM
Duration: 3 hours
Tour is organized by Life adventures eco-tour agency specialized for authentic green trips, less-known locations, active vacations and memorable photos. More info: lifeadventures.com
ABOUT CYCLING TOUR:
We will visit the Dalmatian hinterland area. Stasevica valley is situated just behind the hills over the Adriatic sea. It's a valley full of vineyards and beautiful scenic landscape. This tour is a must if you are a wine lover because we visit 2 wineries and try some of the best local Dalmatian wines and food. During the visit to the wineries, you'll have a chance to buy some of the products they offer.
Tour guide + wine & food in wineries + bike + insurance 47 €
Tour guide + wine & food in wineries + bike + insurance 47 €
By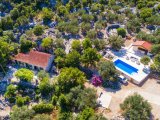 Peračko Blato (Dubrovnik-Neretva County)
Starting from 170,00 €