Yoga and meditation retreat
DALMATINSKA 23 - 21223 Okrug Donji - Općina Okrug - Croatia
Yoga and meditation retreat will bring you a joyful practice, regardless of your prior knowledge. The classes combine different styles of yoga like Hatha, Ashtanga, Yin, and others.
Retreat villa is located near the historic town of Trogir which historic center is on the UNESCO list of World Heritage Sites.
Your retreat package includes:
- 6 days of practice
- 2 yoga classes per day
- Daily guided meditation lessons
- Pranayama and philosophy sessions
- Capoeira, excursion, and adventure tours
- Daily breakfast, lunch, and dinner
- 6 nights accommodation
- Idyllic surroundings
DATES:
You can choose among the 3 different periods:
1. from 13. to 19. 4.2020
2. from 20 to 26.4. 2020
3. from 7. to 13. 6. 2020
PROGRAM:
06:00 - 06:30 Wake up into silence
06:30 - 07:15 Self-practice (teacher assistance) - energizing pranayama and Satya meditation (mindfulness, Metta meditation)
07:30 - 08:30 Yoga practice - sun salutations, Hatha yoga, asanas for the morning, starting the day fresh
08:30 - 09:30 Breakfast
09:40 - 10:15 Morning circle free time (optional day trip)
11:45 - 12:45 Dharma talk, video lecture, or community class (optional day trip) - yoga philosophy and lifestyle lecture on ahimsa, sattva, yama, niyama
12:45 - 13:00 Personal questions with the teacher
13:00 - 14:00 Lunch
14:00 - 17:00 Afternoon practice, free time, massage therapy, or Ayurvedic therapy
17:00 - 18:00 Hatha yoga or Vinyasa practice (each day different practice for individual needs of the group)
18:00 - 19:00 Dinner
19:00 - 19:45 Active meditation, sound meditation, love and kindness, Yoga Nidra, community evening, a purification ceremony, or free time
21:00 Gate close - silence time
ACCOMMODATION:
The environmentally-friendly villa has two apartments: one on the ground floor, size of 110 square meters with four bedrooms and can accommodate eight people. The apartment has three bathrooms with showers and one separate toilet without a shower. On the first floor is a second apartment the size of 100 square meters with three bedrooms, accommodate six people. There is also one bathroom with a shower and one with the bathtub. On each floor heading south, there is a covered terrace (35 square meters). The villa can be rented as a whole or each apartment on its own.
7 days/6 nights 859 € per person
7 days/6 nights 859 € per person
By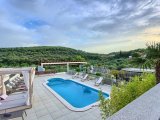 Okrug Donji (Split-Dalmatia County)
Starting from 230,00 €