Traditional Greek Easter in Tinos
Potamia - 84200 Tinos - Greece
Greek Easter is very special and very important for the Greeks. It starts on Big Friday when the epitaph goes around in every village with all the locals following the procession with candles in hand, and the priest singing in front creating a mystic atmosphere. Saturday night there's the resurrection ,everyone gather to the churches to hear the midnight singing, during which a wonderful fireworks starts. Then everyone gathers at the local restaurants to eat the traditional soup of magiritsa , contains liver, lettuce and lemon, which is the first meat soup that Greeks eat after a 40 day fasting. Sunday is easter and the tradition is to cook the whole lamb on the spit. This starts in the morning and it goes all day with music, wine and dance!
1 week for 4 people + Easter lunch € 480 (instead of € 580)
The Sunday feast which contains the whole Easter meal is offered for free to the guests that will be staying at the ecolodge during Greek Easter!
1 week for 4 people + Easter lunch € 480 (instead of € 580)
By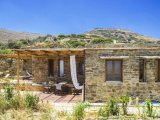 Tinos (Egeo)
Starting from 55,00 €