Easter in Greece, between Nature and Culture
Milokopi - 20300 Loutraki - Greece
A paradise an hour and a half away from Athens. And 'this is the feeling you have when you get in this bed and breakfast environmentally friendly. At 250 meters you have the sea with a large beach of white stones, sand and rocks. All around the green routes, small bays and inlets that will leave you breathless.
The offer includes:
- Overnight stay for two people in a double room;
- Full board, Italian and Mediterranean cuisine with our products;
- Pick up and drop off from Corinth;
- 1 guide for bike tour between the sea, forest and mountains, archaeological sites and Byzantine churches.
4 nights + full board + guided tour 200 € (instead of € 240) per person
4 nights + full board + guided tour 200 € (instead of € 240) per person
By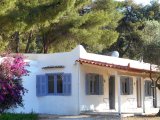 Loutraki (Corinthia)
Starting from 110,00 €