Organic holiday near Trier
Baltzstr. 16 - "Ferienhaus Lichtberg 1" & "Ferienhaus Lichtberg 2" - 54296 Trier - Rheinland-Pfalz - Germany
The special offer includes:
- one night for 2 people
- Welcome: 1 bottle of the famous Mosel wine (organic)
Bio-Tiny house for 2 guests on the quiet property (Heilplatz), on which the larger holiday home "Lichtberg 2" is located. Living space: 40 sqm, large bedroom in the gable with 2 beds, well-equipped kitchen, living room and bathroom, terrace with grill, large lawn to relax and play, then the start of the hiking trails in beautiful nature / mountain ranges above the Moselle valley and the ancient famous City of Trier, which is only 10 minutes away by car. moves.
Quiet idyll: It is very quiet up here, the air is fresh and good. The property (1,666 sqm) is at the end of an old wine-worker settlement with 19 houses, no church, no shop; afterwards there is only pure nature, high above the Moselle valley and above the oldest city in Germany: Trier. A car rarely drives into this cul-de-sac. The hostess Hildegard lives in the largest house; next to it, the old barn has been converted into Ferienhaus Lichtberg 1, and in the garden is the old wash house, converted into Ferienhaus Lichtberg 2. Hildegard loves being a host and sharing her wonderful healing place with guests; the large meadow is there for everyone! The cottages have exterior blinds on the skylights, and when the sun is shining, there are umbrellas on the wooden furniture on the terraces. Medicinal water (Grander) flows from all taps; All materials are of high quality in terms of building biology, both when renovating in 2016 and when furnishing (solid wood, oiled). Underfloor heating by geothermal energy, infrared wall heating, roof insulation with health-neutral cellulose (Isofloc). Tiles on the ground floor, wooden floors on the upper floor. Ethernet and WiFi, stereo, radio, toaster, ironing board, iron, stove, oven, fridge with freezer, washer-dryer. Own parking lot.
Send feedback
History
Saved
Community
The organic holiday home "Lichtberg 2" is the smaller of the two neighboring houses (both can be booked together for at least 6 people, see also "Holiday home Lichtberg 2"). It is enchantingly alone in the garden and in the field - and yet very close to the city (10 minutes to the university, city, main station and motorway). In 2016 it was optimally renovated with high quality materials. A nice home for 2 people who e.g. like to hike, meditate or just want to enjoy the healthy side.
Overnight stay for 2 guests + welcome greeting 50 € (statt 59 €)
This offer is valid from November to the end of March
Overnight stay for 2 guests + welcome greeting 50 € (statt 59 €)
This offer is valid from November to the end of March
By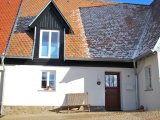 Trier (Rheinland-Pfalz)
Starting from 99,00 €