FREE FLIGHT in the Ivrea Amphitheater Morenico
via Cavour, 10 - 10013 Borgofranco d'Ivrea - Italy
I will suggest a a professional instructor and a tandem pilot that will take care of everything.
The equipment will be provided by the paraglider instructor.
The landing area is in Baio Dora, 5 minutes from B&B.
The offer includes a special sweet and salty breakfast «paragliding» with products at km 0! See you there!
By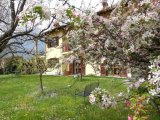 Borgofranco d'Ivrea (Piemonte)
Starting from 30,00 €
More Offers