Green Easter in Salento
Contrada Manfio - 73029 Ruffano - Italy
Our offer is for a 4-night stay in one of our Eco Villas surrounded by a beautiful olive grove.
We will arrange for you a wonderful lunch for Easter Sunday at a selected structure that will offer traditional food of excellent quality and in total relaxation.
The Easter Monday will be dedicated to fully enjoy the spring through an hike that will guide you along the paths of the coast on south of Otranto, considered one of the most evocative landscapes of Salento.
With our naturalist guide we will walk along the cliffs that tell the bloody story of this land, we will visit the surreal landscape of the Red Lake and later, accompanied by the spontaneous flora, we may be lucky enough to observe the high Albanian mountains that overlook the other side of the Otranto channel.
Finally we will head in the easternmost point of Italy, Punta Palascìa where there is a fabulous lighthouse. Along the way you will be accommodated in a selected structure to taste the best products that this land offers.
It requires you to specify any allergies or intolerances to better organize lunch provided during the hike.
Program:
»Friday, April 14, 2017
Arrival at the Farm Manfio's.
»Saturday, April 15, 2017
Relax in Salento.
»Sunday, April 16, 2017
Lunch at Selected Restaurant.
»Monday, April 17, 2017
Naturalistic and Historical-Cultural hike - lunch at a selected hotel
Travel time: 4.3 hours;
Distance: 14 km;
Altitude difference: 28 meters
Places to visit: Torre del Serpe - Palombara - Orte - Palascia - Valle hydro;
Difficulty: Low (T) Media (E);
The rate includes:
- Stay four nights at Eco-tourist facility Manfio's;
- Excursion with GAE guide;
- Insurance;
- Easter Lunch at the selected structure;
- Easter Monday Lunch at selected hotel;
- Shuttle Transport.
To live in maximum comfort the path we invite you to wear clothing suitable to the season, sneakers or hiking, hat and backpack. Also remember to equip themselves with water and energy food for their personal use.
4 nights for 2 + guided tour for two and dinner for 2 + transport 399 € (instead of 450 €) for 2 people
4 nights for 2 + guided tour for two and dinner for 2 + transport 399 € (instead of 450 €) for 2 people
By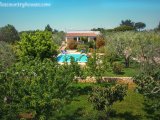 Ruffano (Puglia)
Starting from 45,00 €