May 1st: celebrating Spring
sp cutrofiano aradeo angolo incrocio per sogliano - Contrada Spadafore - 73020 Cutrofiano - Italy
Upon your arrival you will be welcomed with a small tasting of organic products in an environmentally friendly accommodation.
Spend a Sunday in full enjoyment with a true SPRING FESTIVAL in an organic farm, with music and good food. In our farm you will find organic food market to emphasize the importance of healthy food and proper nutrition, fun and entertaining workshops, popular dances, aromatic herbs recognition and many games and relaxation in the beautiful Salento countryside.
While on the 1st of May, you can spend a whole day exploring Salento by ourself, or with tour guides to discover the city of Lecce and then visit the Belloluogo Park.
2 nights + organic breakfast + spring feast 49 € per person
2 nights + organic breakfast + spring feast 49 € per person
By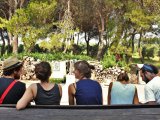 Cutrofiano (Puglia)
Starting from 44,00 €